Kublr Gives IT Admins More Kubernetes Control
Kublr has updated its namesake platform for managing Kubernetes clusters to add support for both spot and on-demand instances on the Amazon Web Services (AWS) public cloud as well as version 1.18 of Kubernetes.
Company CTO Oleg Chunikhin says IT organizations can now manage via a single interface Kubernetes clusters across mixed instances on AWS as they best see fit to reduce costs. That capability complements an existing alliance with Cloudtamer.io that integrates Kublr with a set of governance tools for controlling costs by applying policies that restrict when and where Kubernetes clusters can run.
With the release of version 1.19 of Kublr, the Kublr Control Plane has also been updated to make it possible to deploy Kubernetes clusters with pod security policies restricted by default.
Kublr 1.19 also introduces support for additional Helm packages deployed and managed as a part of the Kublr cluster specification. IT teams can include Helm packages as part of a cluster specification to deploy system software with their Kubernetes cluster in a single step.
Finally, Kublr has added support for Centos/RHEL 8.1, high-availability configuration for AWS Network Address Translation (NAT) gateways for private subnets, master-only cluster creation via the user interface (UI) and an updated user interface.
Kublr is making a case for an open source management platform designed to make it easier for IT administrators to manage fleets of Kubernetes clusters. In the wake of the economic downturn brought on by the COVID-19 pandemic, IT organizations are more conscious of costs, notes Chunikhin. One of the ways to reduce the total cost of Kubernetes is to enable IT administrators to manage these environments rather than hiring a site reliability engineer (SRE), for example. Kublr achieves that goal by presenting IT administrators with a series of wizards through which the Kubernetes deployment process is automated, he says.
Longer-term, IT administrators increasingly are being asked to manage instances of Kubernetes clusters running in both on-premises IT environments and multiple clouds. As IT organizations look to reduce costs, centralizing the management of multiple platforms will become a higher priority. Rather than having separate teams to manage each platform, IT organizations will shift toward management frameworks that enable smaller teams to centralize the management of as many platforms as possible. Arguably, the need to reduce costs will accelerate the rate at which IT organizations would have previously embraced hybrid cloud computing.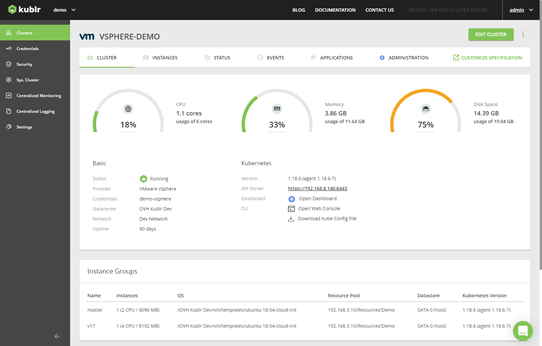 At the same time, organizations are trying to increase the rate at which they are building and deploying applications as they embrace digital business transformation initiatives more aggressively. As such, many organizations will conclude it makes more sense of them to enable IT administrators to manage IT infrastructure to allow developers to spend more time writing code. The challenge is making sure IT administrators have access to management platforms that allow them to keep pace with the rate of application development by automating as many processes as possible.