Red Hat Donates Kepler Tool for Tracking Power Usage to CNCF
At the Mobile World Congress event today, Red Hat launched an open source project to capture power usage metrics from Kubernetes clusters. The Kubernetes-based Efficient Power Level Exporter (Kepler) is a project founded by Red Hat's emerging technologies group in collaboration with IBM Research.
In addition, Red Hat announced it is working with Arm to test and develop proofs-of-concept for energy efficiency using Red Hat OpenShift and Red Hat Enterprise Linux (RHEL) running on Arm Neoverse processors. That effort spans everything from running virtual instances of radio access networks (RANs) on the Red Hat OpenShift platform based on Kubernetes to employing a combination of centralized and distributed building blocks to support RAN deployments and 5G wireless networks.
Kepler makes use of the extended Berkeley Packet Filter (eBPF) in the Linux kernel, CPU performance counters and machine learning models to estimate power consumption by workloads in a way that can then be exported as a set of Prometheus metrics for tracking carbon footprints.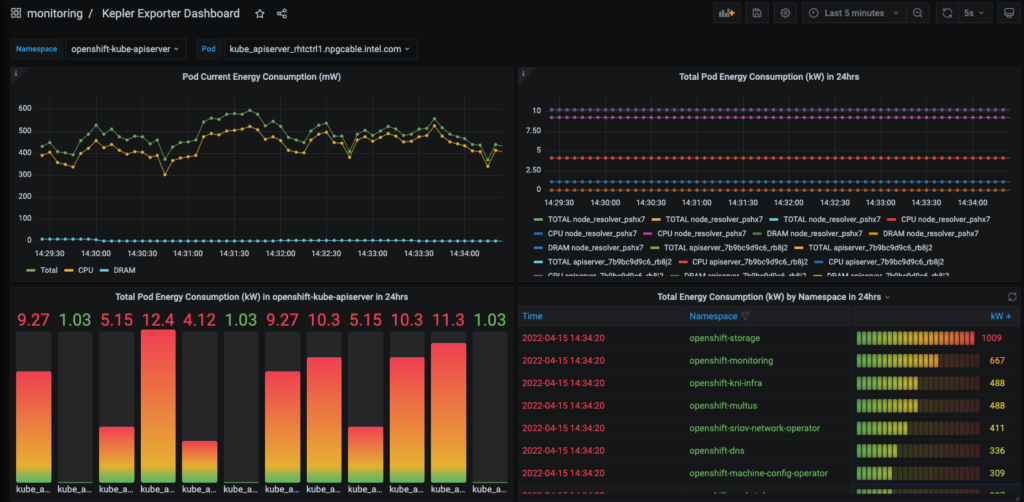 The Kepler Model Server that's been donated to the Cloud Native Computing Foundation (CNCF) continually adjusts and fine-tunes its pre-trained models using node data from power-estimating agents running on servers. Those metrics can then be combined with power usage effectiveness (PUE) and electricity carbon intensity data to calculate the carbon footprint of the workload.
The Kepler metrics are based on time-series data that can be added to, for example, Grafana dashboards that present power consumption at a variety of levels, including containers, pods, namespaces or different compute nodes in the cluster.
Kepler metrics can also be employed by a Kubernetes scheduler to place the upcoming workload on the compute node that is projected to improve performance per watt and enable auto-scaling algorithms to determine the resources needed to achieve better energy efficiency.
Finally, Kepler can also be integrated with continuous integration/continuous delivery (CI/CD) pipelines to optimize energy consumption throughout the software development life cycle.
The International Energy Agency estimates the increased number of workloads running in data centers has resulted in a 10% to 30% increase per year in energy usage, accounting for 1%-1.5% of global energy consumption. A recent IEEE study, meanwhile, notes that the telecommunication sector accounts for about 4% of global electricity consumption.
Azhar Sayeed, global chief architect for Red Hat, says the simplest way to reduce the amount of carbon being generated by data centers is to make it easier to turn processor cores off when not being used.
Kepler is a complement to an existing Open Programmable Infrastructure (OPI) project that makes use of various open source technologies to optimize programmable hardware and tune power usage and consumption for applications. Red Hat is also using artificial intelligence (AI) to optimize network and application efficiency, including for existing applications. Red Hat also recently announced their intent to reach net-zero operational greenhouse gas emissions by 2030.
As more regulations require IT teams to more efficiently run workloads, it's only a matter of time before they will have to account for the amount of power being consumed by cloud-native applications. The open source community appears to be coming together to achieve that goal using a common set of core technologies that are readily accessible.