ReleaseHub Further Automates App Environment Creation
At the KubeCon + CloudNativeCon North America conference this week, ReleaseHub announced it can now automatically spin up application environments in the cloud based on how Docker Compose files are configured on a developer's laptop.
In addition, the company has added the ability to replicate application data in minutes using an Instant Data Sets capability to its namesake platform for creating application staging environments that mimic production environments.
Finally, ReleaseHub has natively integrated its platform with the Datadog monitoring and observability platform to provide developers more insights into how their application environments are running.
Matt Carter, chief marketing officer for ReleaseHub, says the goal is to remove the friction that developers currently encounter when spinning up application environments. The simpler that process becomes the more productive developers become, he notes.
Previously, ReleaseHub could automate the provisioning of an application environment on a public cloud platform by analyzing Docker files stored in a central repository. That capability has now been extended to individual developer desktops that are used to build container applications.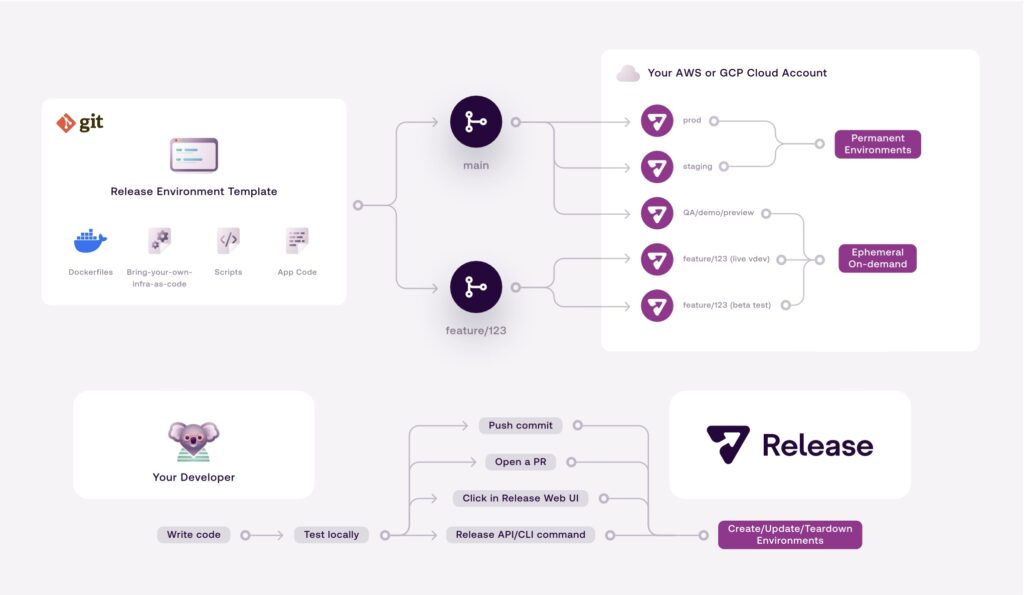 Developers today waste a large amount of time building and maintaining environments. ReleaseHub is making a case for what it described as an environments-as-a-service (EaaS) platform that automates that process.
It's not clear how much time and money is wasted building and maintaining application environments, but it's clear that the more challenging that process is the less likely it is a developer is going to want to experiment with a new idea for an application. If the amount of time required to spin up an application environment is excessive, most developers are only going to make that effort when they absolutely are required.
ReleaseHub also provides the added benefit of reducing any errors that might get introduced when manually configuring an application environment, notes Carter.
There is understandably a lot more focus these days on developer productivity. The number of applications that need to be built continues to exceed that available skill set. As the application development backlog continues to increase, the rate at which organizations can employ software innovation starts to decline. The issue organizations are struggling with is making the tough decisions about which projects can go forward; these are being made simply because there isn't enough time to build everything. The existence of ReleaseHub may not entirely make up for the shortage of developers, but it could go a long way toward removing much of the toil that results in fewer applications being built or continuously updated.
A central tenet of DevOps has, of course, a relentless commitment to automation. The main goal is to give developers as much time as possible to write code. Every minute spent on extraneous tasks runs counter to DevOps principles. Truth be told, most developers want as little to do with anything reminiscent of IT operations as possible. DevOps teams, meanwhile, when given the choice between spending more time spinning up application development environments versus actually deploying applications in a production environment would invariably choose the latter.