Windocks Extends Reach of Cloud-Native Data Repository
Windocks has extended a cloud-native data repository, which is based on an instance of the Docker container format, to add support for Oracle, PostgreSQL, MySQL and NoSQL database platforms in addition to the existing support it provides for Microsoft SQL Server database.
Paul Stanton, vice president of product management for Windocks, says the company originally developed Windocks Microsoft Windows SQL Server database virtualization and container technology to clone a locally installed edition of the database that would be delivered as a set of containers. That original solution would primarily be employed by a DevOps team to build and test applications. Version 6.0 of its cloud-native data repository now extends that capability to other databases deployed on a Windows platform.
The company provides two different options for achieving database virtualization. IT teams can either make use of Windows virtual hard drives (VHDs) or volume cloning that relies on snapshots of the target database. Storage-based cloning generally requires client-side software or agents in addition to staging servers to apply data masking, subsetting or creation of synthetic data.
The version of Docker that Winsocket created for Windows environments predates the delivery of Microsoft's own instance of Docker containers on Windows. However, Microsoft has since decided to abandon the effort to deliver SQL Server via its container platform, notes Stanton. That leaves Windocks as the only other viable approach for containerizing the Microsoft database, he adds.
Windocks isn't making a case for deploying databases in its containers running in production environments. Instead, the primary goal is to make it easier for developers to clone production databases in minutes with minimal intervention from an internal IT team. The data virtualization and container technology provided by Windocks enables a DevOps team to set up a cloud-native data repository through which pipelines that make data available to containerized applications can automatically be configured as part of a self-service environment for developers, says Stanton. Those data repositories can be hosted on either Linux or Windows platforms, he adds.
Data masking, data quality, synthetic data, encryption, audit logs and role and policy-based access controls are all built into the container image of the database. There's also an open REST application programming interface (API) through which DevOps teams can integrate the repository with any third-party platform.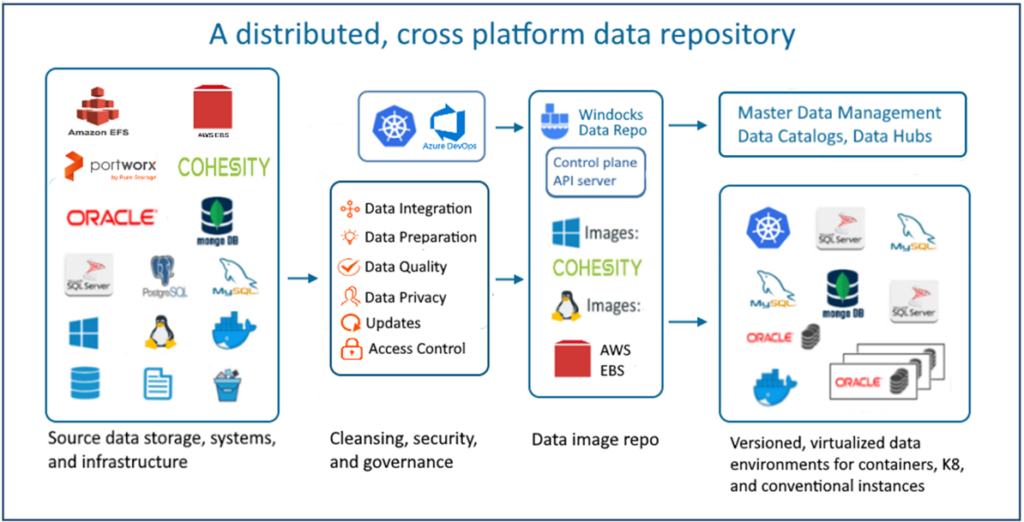 The process through which developers access data to build applications has, historically, been cumbersome. Windocks now provides a way to streamline that process across a much wider range of data sources. And the Windocks solution uses an integrated set of database virtualization and container technologies that only consume 40MB of storage per instance. Pricing for Windocks Enterprise edition is $17,950 per year for 3TB of data.
As the number of stateful applications built using containers continues to increase, there's no doubt there will be a corresponding rise of interest in database virtualization technologies that promise to make it simpler to build those types of applications. The challenge is figuring how to best meld the data operations and DevOps practices required to build them.