Equinix, IBM Ally to Push Red Hat OpenShift to the Edge
Equinix and IBM today announced they will work together to make an IBM Cloud Satellite service, through which IBM manages edge computing platforms running an instance of the Red Hat OpenShift platform based on Kubernetes, available on IT infrastructure managed by Equinix.
IBM Cloud Satellite creates an edge computing environment that now can be managed centrally either via IBM cloud or data centers managed by Equinix. Organizations can opt to have that environment be managed entirely by IBM or to co-manage applications alongside.
At its core, IBM Cloud Satellite enables teams to define a location populated by a group of RHEL hosts. There is also Satellite Mesh, a federated instance of the open source Istio service mesh that can span multiple Kubernetes clusters, and Satellite Link, a tool for automating the administration of application-level firewalls. IBM also provides access to a Satellite Config tool to provide a global view of applications and control over configurations and the deployment of applications.
IBM Cloud Satellite now can be deployed to 230 Equinix data centers across 64 metros that are connected via Equinix Fabric, a software-defined interconnection overlay that can be deployed across Equinix data centers in addition to multiple cloud computing environments and software-as-a-service (SaaS) application environments, to lay the foundation for a hybrid cloud computing environment.
IT teams can employ Equinix Fabric in areas where there is no IBM Cloud Direct Link presence. In addition, a bare-metal hosting service dubbed Equinix Metal is now certified to run IBM and Red Hat applications, with an initial focus on Red Hat OpenShift, delivered via IBM Cloud Satellite.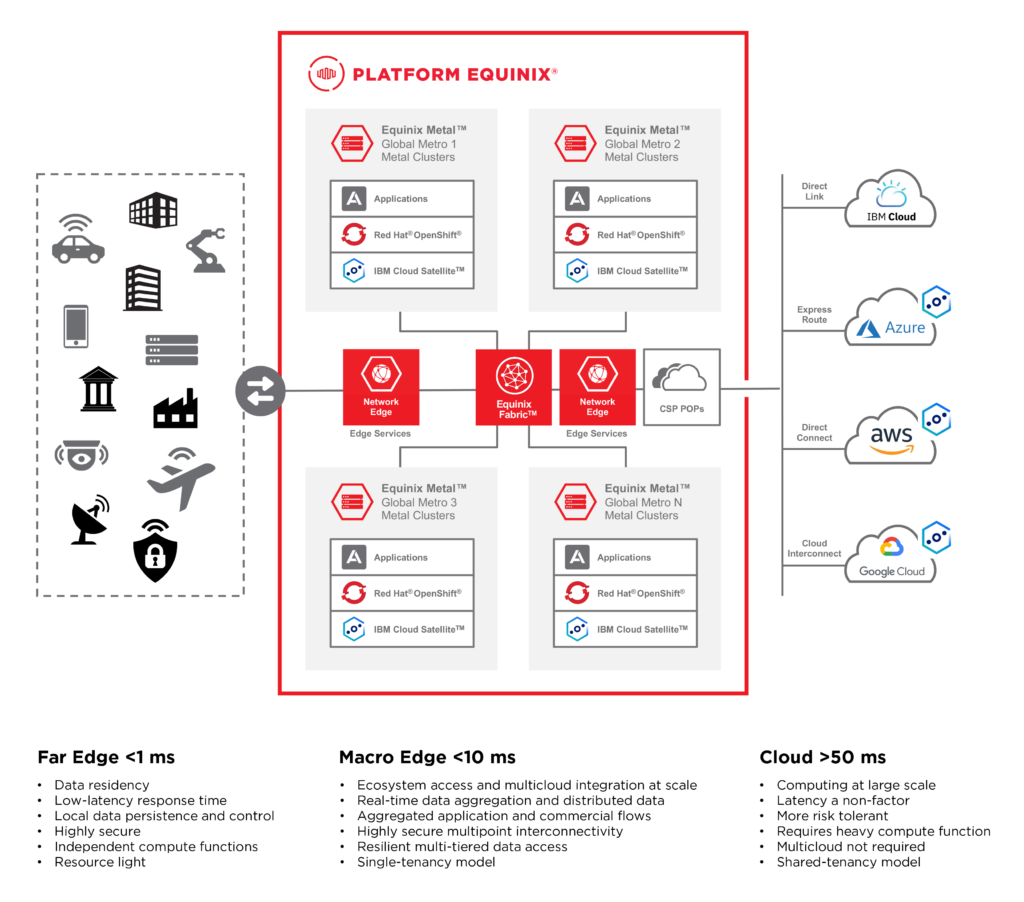 Equinix's recent "2020-21 Global Tech Trends Survey" reported that hybrid cloud adoption has increased by 12%, with reliance on multiple clouds have increased 11%. Nearly half of respondents (46%) said they are employing some form of a hybrid cloud model, while 28% said they are using multiple clouds.
Simultaneously, interest in edge computing is rising, as organizations look to process and analyze data in near real-time at the point where it is created and consumed. In many of those cases, the foundation upon which those edge computing applications are being deployed is a Kubernetes cluster of some type. The challenge that creates is IT teams need a way to centrally manage all those distributed clusters. IBM is making a case for IBM Cloud Satellite, through which it takes responsibility for setting up the management framework for edge computing platforms.
Jason Sfaelos, business development for Equinix, says that as edge computing continues to evolve, IT teams will find themselves managing a mix of real-time and batch-oriented applications, with many of those real-time applications running at a network edge that is more accessible via Equinix data centers. The relationship between Equinix and IBM is not exclusive, so IT teams should expect to see Equinix forming multiple edge computing alliances, he adds.
One way or another, edge computing is about to transform the way IT is managed across an extended enterprise. The challenge now is to determine how best to go about managing all those edge computing platforms.