HPE Unveils Container Platform
Hewlett-Packard Enterprise (HPE) today announced it will combine two recent acquisitions to create an HPE Container Platform that will be made available in on-premises environments and public clouds early next year.
Launched at the KubeCon + CloudNativeCon North America 2019 conference, the HPE Container Platform combines Kubernetes with a control plane for container management that HPE gained with its acquisition of Blue Data, a provider of a big data analytics platform, with a distributed file system and object store for persistent data for containers that HPE gained with its acquisition of MapR Technologies earlier this year.
Jason Schroedl, vice president of marketing for HPE Blue Data, says the HPE Container Platform is designed to run either monolithic applications or microservices-based applications on bare-metal servers. IT organizations can employ any distribution of Kubernetes they prefer and there's no requirement for HPE infrastructure to be in place to deploy the HPE Container Platform, he says.
Via a single click, IT teams can deploy the HPE Container Platform and third-party application software on bare-metal servers running at the network edge, local data center or a public cloud.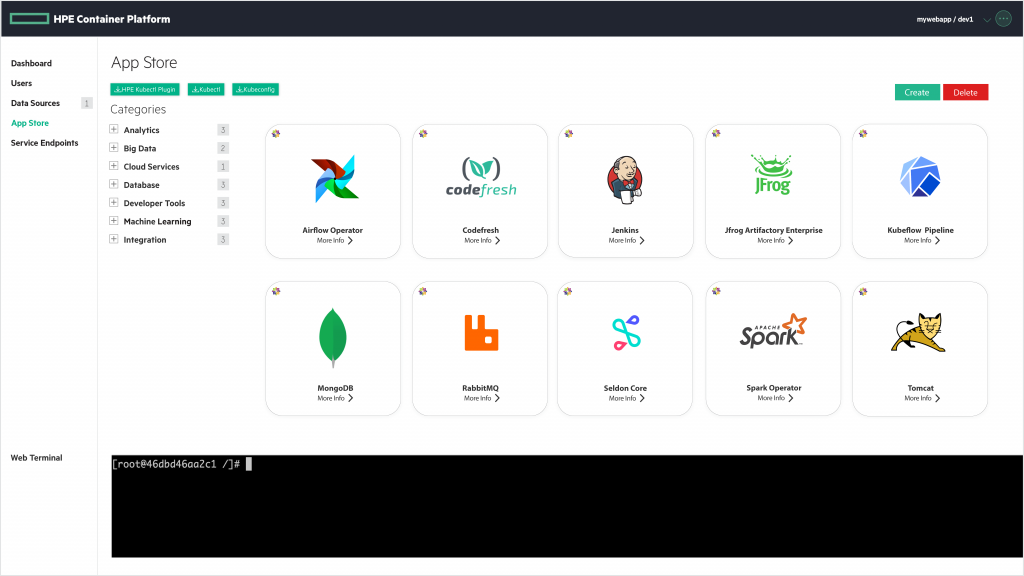 That approach improves application performance by significantly shrinking the size of the necessary software stack by eliminating the need for virtual machines, says Schroedl. For IT organizations that license commercial virtual machines, it also reduces the total cost of deploying containerized applications.
At the same time, HPE is expanding its HPE Pointnext advisory and consulting services to enable organizations to manage hybrid cloud computing environments made up of containerized and legacy applications, adds Schroedl. That approach doesn't require organizations to adopt and manage two separate classes of platforms to run legacy applications alongside emerging microservices-based applications.
Schroedl says there's more data being created at the edge these days than in the cloud, and IT organizations need a platform that can process and store data at the edge as well in the cloud. Most of the applications built thus far using containers have been stateless, and as they start to migrate to serverless computing frameworks, stateful applications that require access to persistent storage being built and deployed on Kubernetes clusters in larger numbers. HPE is betting that as that transition occurs, IT organizations will be willing to consider a wider range of platforms for building and deploying stateful applications.
While HPE remains primarily focused on servers and storage systems running in on-premises IT environments, it clearly sees the rise of containers as an opportunity to create a software stack spanning hybrid cloud computing environments. The challenge HPE faces now is making developers aware of the fact that there are platforms that operate at a higher level of abstraction than Kubernetes. In fact, in many cases, IT organizations that adopt platforms such as the HPE Container Platform may only have minimal interactions with Kubernetes, because provisioning Kubernetes clusters will occur as a natural extension of the platform built on top of Kubernetes.