Cisco Unveils Hybrid Kubernetes Platform for AWS
Cisco Systems this week moved to build a hybrid cloud based on Kubernetes in partnership with Amazon Web Services (AWS).
Fabio Gori, senior director for cloud solutions marketing for Cisco, says the Cisco Hybrid Solution for Kubernetes creates a common layer of network, security, management and monitoring between an instance of Kubernetes curated by Cisco for an on-premises environment and AWS Amazon Elastic Container Service for Kubernetes (Amazon EKS). The instance of Kubernetes runs on Cisco Container Platform (CCP), which is based on the Cisco HyperFlex hyperconverged infrastructure platform.
Via the CCP platform, DevOps teams will be able to launch Kubernetes clusters on both Amazon EKS and CCP. AWS Identity and Access Management (IAM) is integrated as common authentication mechanism and both environments are integrated with Amazon Elastic Container Registry (ECR). A set of open source monitoring and logging tools based on Prometheus and ElasticSearch/FluentD/Kibana is also provided.
In terms of networking, Cisco already makes available CSR 1000v, a virtual instance of its routing software, available on AWS.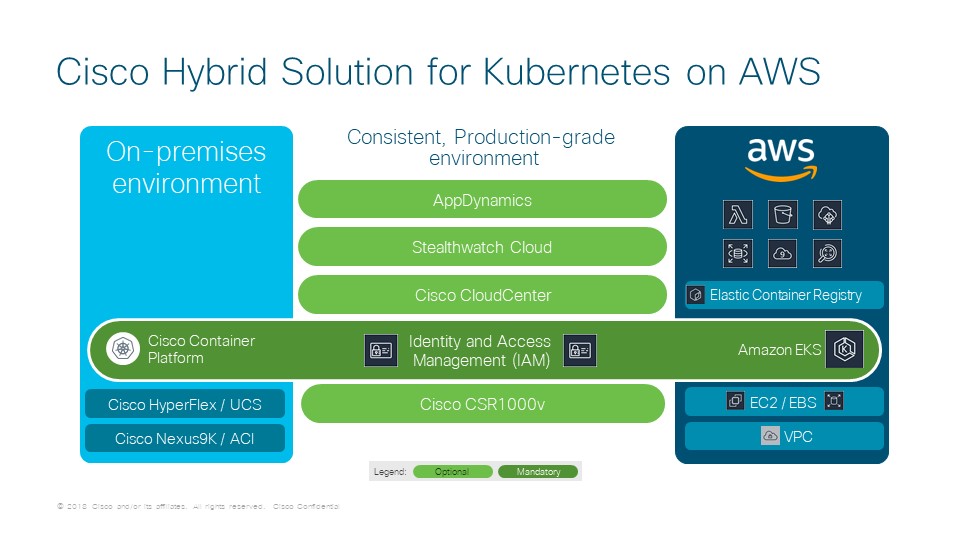 The Cisco Hybrid Solution for Kubernetes on AWS will be available next month. The software is licensed in one-, three- and five-year subscriptions. Pricing for software-only subscriptions will start at approximately $65,000 per year for a typical entry-level configuration. On AWS, customers pay 20 cents per hour for each Amazon EKS cluster that they create in addition to the AWS resources they consume to run Kubernetes worker nodes.
The Cisco alliance with AWS follows a similar trajectory Cisco is pursuing with Google. Cisco last year committed to deliver later this year a portfolio of hybrid cloud computing offerings that will run on Google Cloud Platform (GCP). The instance of Kubernetes that Cisco employs on-premises is based on the same distribution that Google employs on its clouds. Support for other cloud platforms will be based on customer demand, says Gori.
Gori notes rapid adoption of Kubernetes is fueling interest in unifying the management of multiple clouds that have already proliferated across the enterprise. Cisco will never try to dictate where any organization should deploy a workload, he says; rather, Cisco envisions itself as the provider of the management and security framework required to manage workloads running on the cloud or on Cisco infrastructure running in a local data center.
As hybrid cloud computing based on Kubernetes continues to evolve, however, it will be essential for IT organizations to more aggressively embrace DevOps processes. When it comes to modernizing IT, Gori notes that technology platforms are only 30 percent of the overall equation. The other 70 percent consists of solving more complicated staffing and process challenges, he says. In fact, because of those issues hybrid cloud computing strategies are now being driven from the top down within most organizations, he adds.
Of course, many of those hybrid cloud computing decisions are just now become feasible to implement thanks to ubiquitous support for Kubernetes. The only question now is how fast traditional enterprise IT organizations can make a transition spanning platforms, processes and people that all need to work in a more hand-in-glove fashion than ever before.