BMC Embraces Containers to Drive AI into IT Management
BMC this week launched a BMC Helix Cognitive Service Management offering that takes advantage of containers and Kubernetes clusters to enable IT organizations to deploy an IT management platform infused with cognitive computing capabilities anywhere.
Nayaki Nayyar, president of digital services management for BMC Software, says this latest offering combines machine learning algorithms and other cognitive computing capabilities with a much more flexible deployment model that will become a foundation for managing hybrid cloud computing environments.
The BMC Helix Cognitive Service Management spans BMC Helix Remedy, a predictive service management application; BMC Helix Business Workflows, a tool for building applications; BMC Helix Digital Workplace, an omni-channel collaboration application; BMC Helix Discovery, a tool for discovering IT assets; and BMC Helix Innovation Suite, a microservices-based platform that helps companies extend, customize and integrate BMC applications via REST application programming interfaces (APIs). Both BMC Helix Discovery and BMC Helix Innovation Suite are slated to be available this fall.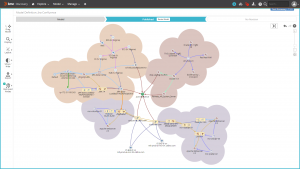 Nayyar notes that virtual machines are not going away anytime soon, but it's becoming apparent a new era of computing based on containers is starting to emerge. BMC is moving to take advantage of containers to make BMC Helix Cognitive Service Management applications available as a service running in a public cloud and on-premises, says Nayyar. BMC also is working with IBM to employ the cognitive computing services known as the IBM Watson cloud service across its portfolio.
That approach also makes it simpler for BMC to expose IT organizations to advance cognitive computing capabilities to IT departments. The first instance of BMC software to make use of machine learning algorithms is the TrueSight AIOps platform, which ingests data from multiple data sources to automate processes across BMC service desk, IT operations and tools for managing DevOps processes.
Nayyar says those cognitive computing capabilities are becoming more critical as IT organizations are being asked to manage digital services spanning multiple IT platforms. It's clear the complexity of those tasks requires increased reliance on levels artificial intelligence (AI) distributed across the enterprise, says Nayyar.
Naturally, IT professionals are concerned about to what degree AI might replace them. AI is primary going to eliminate many of the rote manual tasks most IT professionals would just as soon see disappear in favor of focusing more of their time on maximizing the business value of IT. Arguably, the cost and complexity of IT has emerged as the single biggest inhibitor to continuing to invest in IT. Eliminating that cost and complexity is key to increasing investments in developing next-generation applications without having to expand the size of the IT staff at a time when IT skills are challenging to attain and retain.
BMC is not the only provider of IT management software to embrace containers. But BMC is at the leading edge of using containers to make AI technologies widely accessible across the enterprise. It may take a while for AI to transform the way IT gets managed. But it's already clear that AI technologies are going to be more widely employed faster, thanks to the existence of containers.