SUSE Announces Harvester HCI Platform Based on Kubernetes
SUSE announced an open source hyperconverged infrastructure (HCI) platform, dubbed Harvester, is now generally available. Harvester is based on Kubernetes and other open source technologies the company is advancing.
Sheng Liang, president of engineering and innovation for SUSE, says the goal is to make it much simpler and less costly for IT teams to provision an HCI platform based on open source technologies that can run on any type of IT infrastructure.
The core open source components of Harvester 1.0 include a distribution of Kubernetes curated by SUSE, SUSE's Linux distribution, Kubevirt, which makes it possible to deploy virtual machines on top of Kubernetes, and Longhorn, which makes it possible to run applications that require access to block storage on top of Kubernetes. It also makes use of Multus to provide multiple network support for virtual machines, Kube-Vip for floating IP to the Harvester cluster and providing load balancing services to a guest cluster.
Harvester itself is integrated with SUSE Rancher, the Kubernetes management framework SUSE gained when it acquired Rancher Labs in 2020. Harvester requires 64-bit x86 processors with 16 cores recommended to provide access to a preferred minimum of 64GB of memory.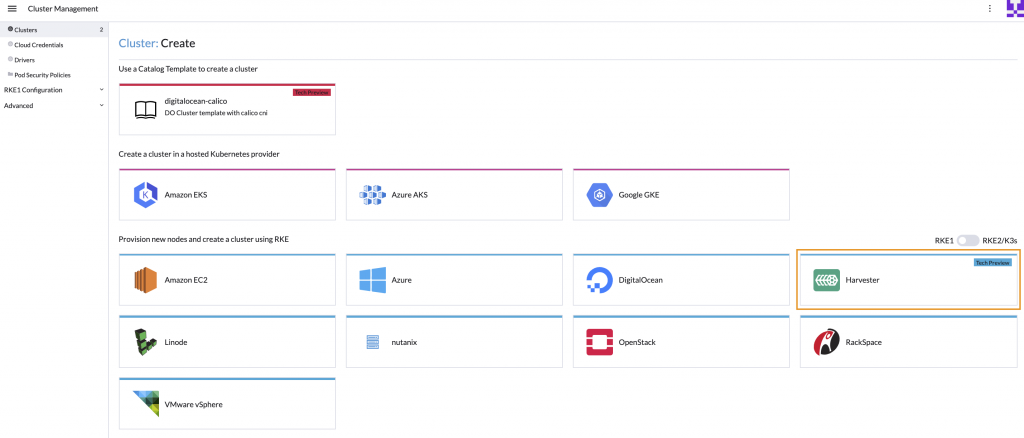 Today, HCI platforms are widely deployed in both on-premises and cloud computing environments as IT organizations move to consolidate the management of compute and storage using HCI platforms. HCI platforms are simpler to manage than legacy rack-based systems. Most of the HCI platforms currently installed are based on commercial software from VMware that came pre-installed on systems from Dell Technologies and Hewlett-Packard Enterprise (HPE). Harvester provides an alternative approach that a hardware vendor could pre-install or that could be deployed by an internal IT team.
In general, Liang notes that internal IT teams are looking to automate the management of the IT stack as much as possible as IT environments become more complex. Continuing to rely on manual processes to manage IT only serves to increase the total cost of IT as more workloads are deployed, he notes. Over time, the IT organization will not be agile enough to keep up with the needs of the business, Liang adds. In fact, Liang says that as the complexity of IT environments increases it's inevitable that more organizations will embrace DevOps best practices to programmatically manage them.
SUSE is also working on leveraging artificial intelligence (AI) to automate IT operations, also known as AIOps, to reduce Kubernetes management costs via its Opni project that, for example, can be used to detect anomalies in logs, notes Liang. The overall goal is to make it simpler to manage IT environments at scale without having to dramatically increase the size of an IT staff, he explains.
In the meantime, it remains to be seen whether IT teams will replace commercial HCI platforms (like that provided by VMware) with Harvester to reduce their licensing costs. However, as Kubernetes becomes more widely adopted in enterprise IT environments, it's likely to become a foundation for an HCI platform capable of running cloud-native applications.