AWS Extends Kubecost Alliance to Rein in K8s Costs
Amazon Web Services (AWS) has extended its alliance with Kubecost to integrate a cost monitoring tool for Kubernetes with a managed instance of Prometheus monitoring software.
Previously, AWS made the Kubecost cost monitoring tool available within Amazon Kubernetes Services (AKS) to track Kubernetes costs by namespace, cluster, labels or pod.
Kubecost is built on OpenCost, an open source software project that is overseen by the Cloud Native Computing Foundation (CNCF). It enables IT teams to allocate costs by applications to either chargeback or showback the cost of the Kubernetes infrastructure being consumed by specific applications.
Linh Lam, a solutions architect for Kubecost, said the integrations enable customers to access the Kubecost cost monitoring tool directly within their AWS console.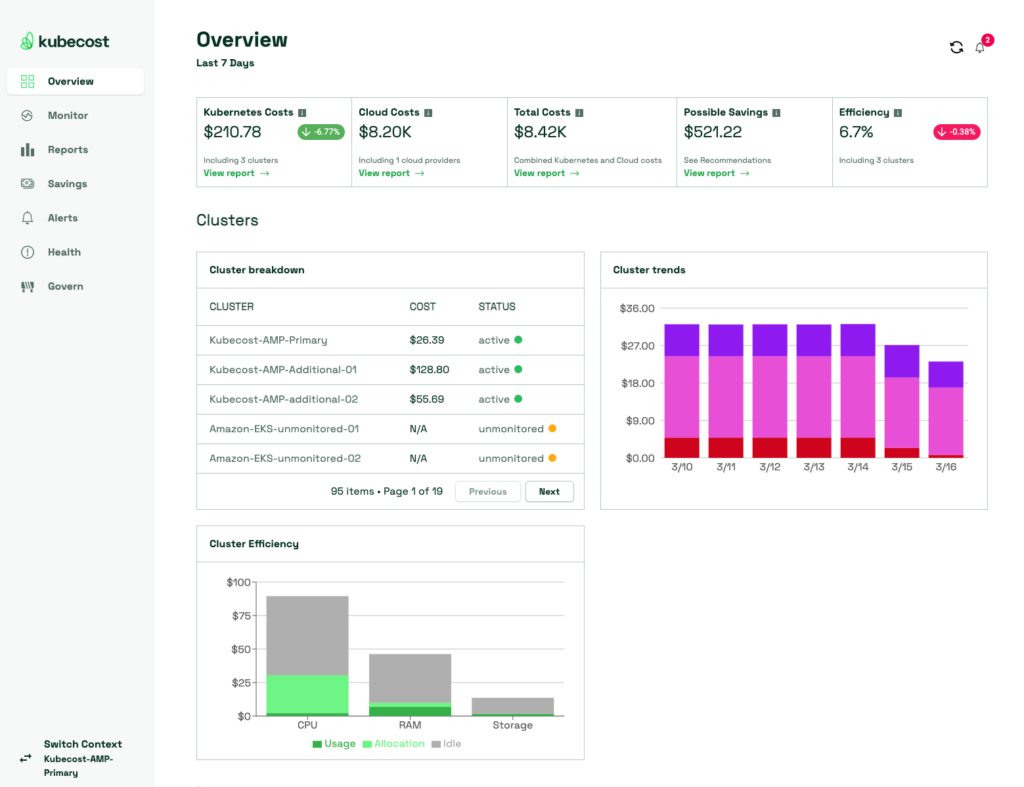 Kubecost makes a free tier of its cost monitoring tool available along with commercial editions that are priced based on how long customers want to store data.
In the wake of the economic downturn, there is naturally a lot more interest in the cost of cloud infrastructure. Organizations may not necessarily be looking to reduce the overall size of their cloud bills as much as they are trying to gain a predictable understanding of how much funding to allocate for Kubernetes infrastructure.
The challenge with allocating Kubernetes costs is that the dynamic nature of container application environments requires a tool that is specifically optimized for collecting data via Kubernetes application programming interfaces (APIs).
The primary issue that Kubecost addresses is the overprovisioning of Kubernetes infrastructure. Out of an abundance of caution, many developers will overprovision infrastructure to ensure maximum application performance, The issue that creates is that much of that infrastructure goes unused and costs rise steadily as each new Kubernetes cluster is provisioned. Kubecost estimates organizations can reduce Kubernetes-related cloud spending by 60% to 80% without impacting application performance.
Many enterprise IT organizations, of course, take advantage of AWS contracts that guarantee discounted pricing if they run a certain number of workloads per month, but there is still a need to track costs by individual business units.
In general, finance teams are asking tougher questions about IT spending than they did at the start of the COVID-19 pandemic when the primary focus was shifting as many workloads to the cloud as possible. The challenge today is organizations simply lack visibility into cloud costs until a bill is presented at the end of the month. By that time, it's too late to change the outcome.
Historically, developers in the cloud era have not been all that concerned about costs. As centralized IT teams take more control of the cloud, the lack of cost-containment discipline has become more apparent. It may take some time, however, for developers to get used to that new reality.
In the meantime, everyone should expect a lot more scrutiny of cloud bills in the months ahead as organizations look to rein in spending on platforms that consume a much larger percentage of the IT budget.