Wavefront by VMware Simplifies Kubernetes Monitoring
Wavefront by VMware announced at the AWS re:Invent 2019 conference it has expanded the monitoring capabilities it provides for Kubernetes to include the ability to identify root causes using predefined Wavefront alerts based on Kubernetes events.
In addition, Wavefront by VMware's Kubernetes and Java Tracing Agent monitoring tools now can be deployed automatically via a zero-configuration installation process. The Wavefront Kubernetes Collector automatically discovers and instruments Java-based services using Wavefront Java Tracing Agent software, which is based on the open source Java Special Agent tracing software.
Finally, a certified instance of OpenShift 4 Operator software for Wavefront by VMware is available in Operator Hub. Operator software is designed to make it easier to manage instances of application software deployed on top of Kubernetes, which provides the foundation for the Red Hat OpenShift application development and deployment platform.
Rob Markovich, senior director at Wavefront, says the easier it is to deploy monitoring tools for Kubernetes, the more likely they will be employed in product environments managed by IT operations teams. There's no shortage of monitoring tools for Kubernetes, but many of those tools can be just as difficult to set up as the Kubernetes clusters, he notes.
All the observability capabilities provided by Wavefront by VMware are surfaced via Wavefront Alert Viewer, a landing page through which IT teams gain access to machine learning algorithms and advanced analytics to detect and resolve incidents faster.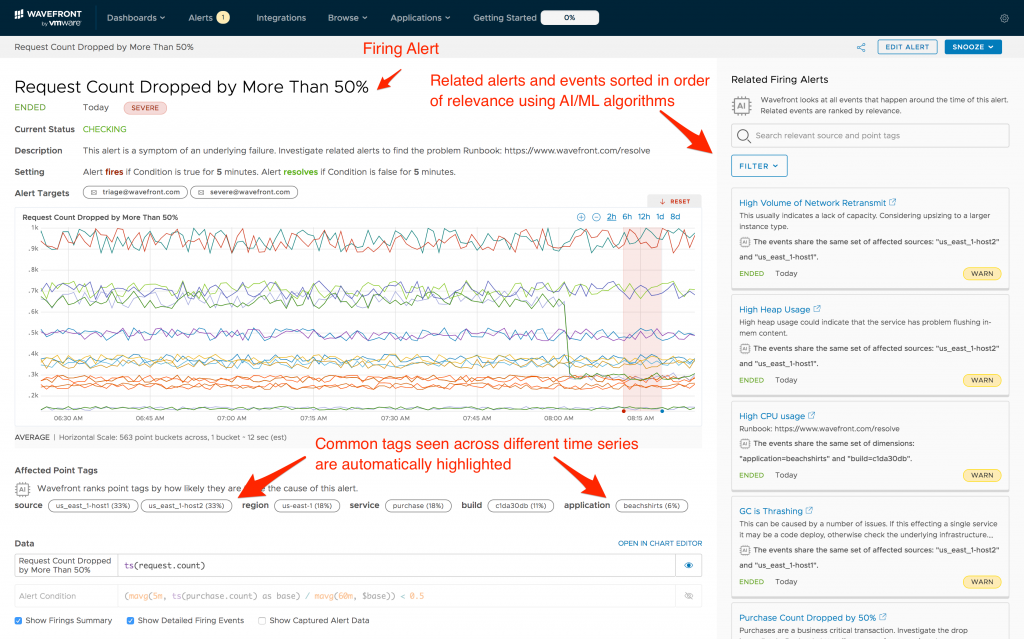 Wavefront Alert Viewer also automatically highlights point tags shared by affected time series events, which Markovich notes makes it easier to identify alerts being generated by application dependencies across the full stack of the IT environment, including the Kubernetes cluster and its host IT infrastructure. Those alerts can be streamed in real-time to enable IT teams to automate IT management processes to address that issue via scripts.
Markovich says Wavefront Alert Viewer provides a more efficient approach to managing traces by employing intelligent trace sampling support. Wavefront Intelligent Trace Sampling samples traces that are likely to be the most relevant while discarding redundant traces. Wavefront Intelligent Trace Sampling derives and retains RED metrics for all traces, including metrics of traces that were not retained after sampling to ensure 100% visibility into application traces, even after sampling.
Wavefront by VMware makes it possible for the average IT administrators to more easily manage Kubernetes environments, Markovich says. IT teams can monitor Kubernetes clusters for utilization extremes, service level agreement (SLA) violations due to increased latency or error rate per service, excessive pod restarts and paused or stuck deployments.
Observability is, of course, at the heart of any set of best DevOps practices. Given all the dependencies that exist within a Kubernetes environment, monitoring tools are now required. There is no shortage of monitoring tools for Kubernetes today, but Wavefront by VMware is betting IT teams will want to be able to access a set of tools designed for IT administrators that can be applied to both microservices-based applications running on Kubernetes cluster and monolithic applications.
In fact, the sooner organizations can employ familiar tools to manage Kubernetes environments, the more likely they will be willing to embrace a platform that doesn't require them to acquire a separate stack of tools to manage it.