Solo.io Adds Managed Istio Service Mesh to Portfolio
Solo.io, at its online Solocon 2021 conference, announced today a bevy of updates to its core platforms including the launch of a managed Gloo Cloud service for deploying and updating the open source Istio service mesh for Kubernetes environments.
In addition, the company has updated its Gloo Mesh platform to provide visibility into instances of Istio spanning multiple Kubernetes clusters. That platform collects, synchronizes, organizes and visualizes access logs and metrics from the entire application, including transactions within an application spanning multiple clusters. It also includes a Gloo Mesh Virtual Destinations capability that both maximizes persistence and minimizes latency by automatically routing traffic to the nearest healthy service. That capability makes use of localization information and real-time detection of available and unresponsive services to route requests to the closest available destination.
Solo.io has also updated its Gloo Edge platform to provide a full-featured application programing interface (API) gateway for edge computing applications that now has all the capabilities of the Gloo platform it is based on. Gloo Edge 2.0 includes a web application firewall (WAF), data loss prevention, response and request transformation, advanced rate limiting, external authentication capabilities and built in support for WebAssembly programming tools. It is also the first API gateway to fully adopt the Gateway API recently added to the Kubernetes project by the Technical Oversight Committee that oversees development of the project.
Finally, Solo.io also announced Gloo Portal now supports the gRPC specification, an open source framework for making remote procedure calls that can run on any platform.
Idit Levine, Solo.io's CEO,  says a managed Gloo Cloud service for Istio renders moot any concerns an IT team might have about deploying a complex platform such as Istio. While there may be lighter-weight instances of a service mesh available, most enterprise IT teams will eventually require most of the capabilities that have been baked into Istio by Google, IBM and other contributors to the open source project, notes Levine.
With Solo.io now assuming responsibility for the management of Istio, it becomes possible to take advantage of the capabilities of Istio such as global service load balancing, end-to-end zero-trust security, and federated traffic and access control as cloud-native application environments continue to expand, notes Levine.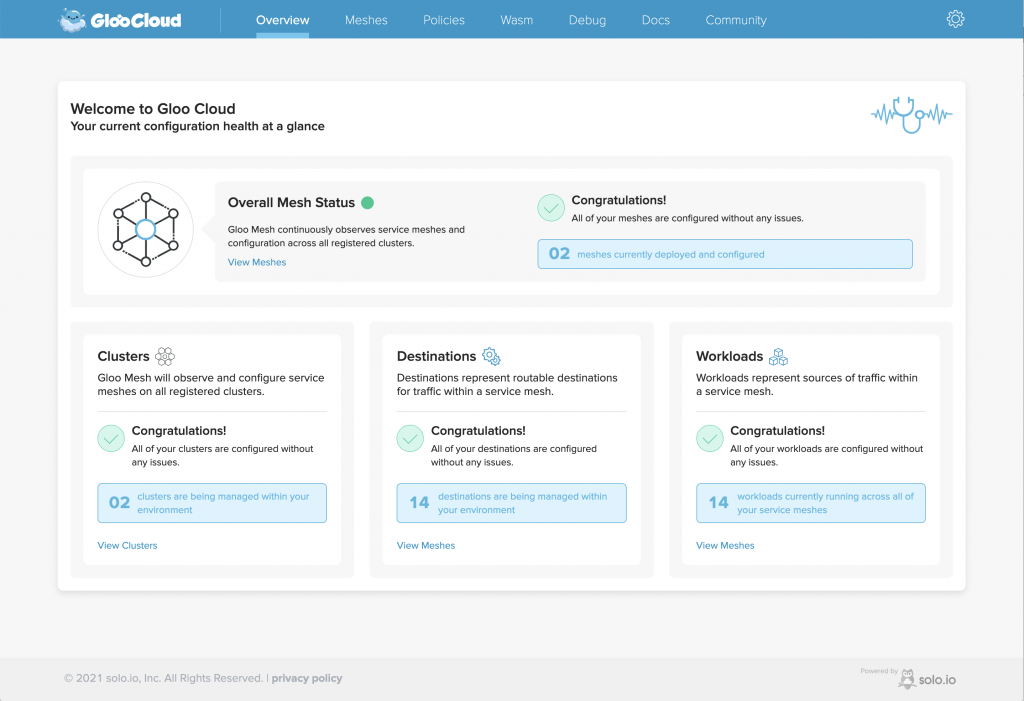 It's still early days as far as the adoption of service meshes are concerned in the enterprise, but it's already apparent application connectivity is being transformed as organizations deploy a new generation of microservices-based applications. It's unclear to what degree a service mesh might replace the need for legacy approaches to application connectivity or to what degree that application connectivity paradigm will need to be extended to applications that run on platforms other than Kubernetes.
However, the need for a higher level of abstraction for connecting applications is clearly mostly pressing in IT environments that are beginning to roll out fleets of Kubernetes clusters that will soon have hundreds, possibly even thousands, of microservices deployed on them.