SODA Foundation Extends Open Source Storage Reach to K8s
The SODA Foundation has added support for the container storage interface (CSI) used to attach storage systems running its open source software-defined storage (SDS) software to Kubernetes clusters.
In addition to providing support for concurrent CSI drivers, the Jerba release of the SODA open data framework (ODF) also provides integration with Restic, a utility that enables container backups to run without requiring a dedicated server. The framework now supports policy-based snapshots of applications that can be stored in a cloud service.
Storage performance monitoring has been improved by the addition of a distributed scheduler, host mapping and additional metrics support. A storage service plan (SSP) framework that abstracts storage backends in a way that enables custom service plans is also now available, along with a bucket management tool that automates storage management across all the major cloud storage services.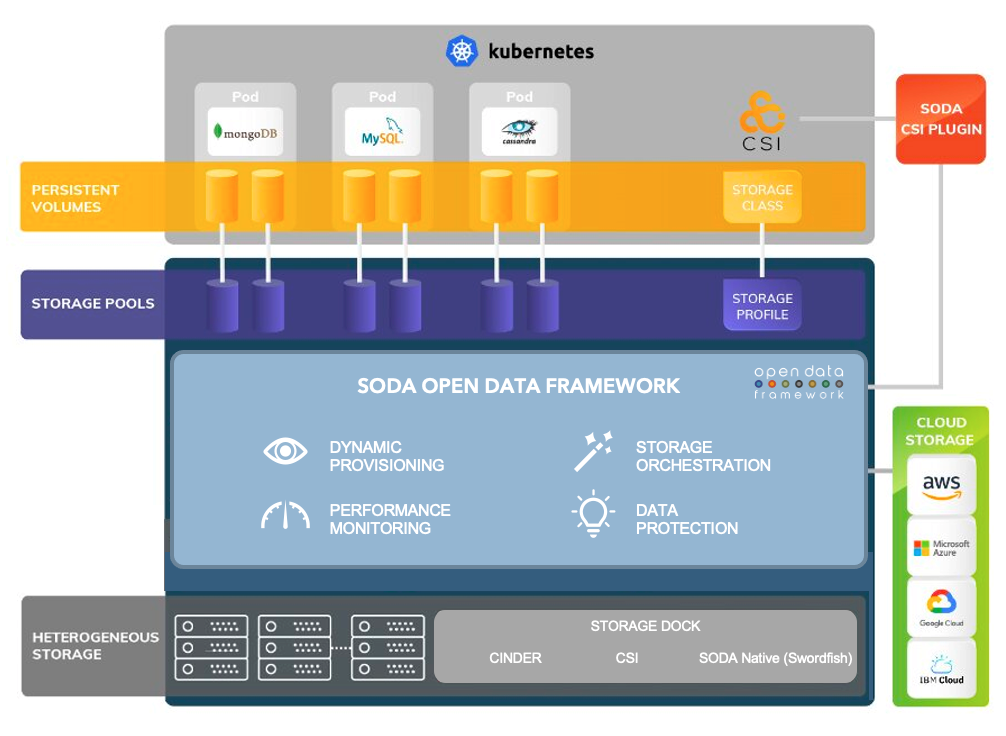 Steven Tan, chairman of the SODA Foundation and CTO of cloud solutions at Futurwei Technologies, a consulting organization that specializes in open source research and development, says the framework is designed to be employed on any storage platform. SODA Foundation members include China Unicom, Fujitsu, Huawei, NTT Communications, Toyota Motor Corp., China Construction Bank Fintech, Click2Cloud, GMO Pepabo, IIJ, MayaData, LinBit, Scality, Sony, Wipro and Yahoo Japan.
Previously known as OpenSDS, the SODA Foundation is an arm of the Linux Foundation, which is also the parent organization of the Cloud Native Computing Foundation (CNCF) that oversees the development of Kubernetes.
The SODA Foundation is also expanding the scope of its activities to include a range of other open source storage software via a SODA Eco initiative, including OpenEBS, an open source platform for running stateful applications on Kubernetes created by MayaData.
The SODA Foundation also now oversees the development of LINSTOR by LINBIT, open source software for managing block storage; CORTX by Seagate, a distributed object storage system that is compatible with the S3 interface created by Amazon Web Services (AWS) and Zenko, open source controller software developed by Scality.
Tan says most of the instances of open source storage software being developed under the auspices of the SODA Foundation are being implemented by IT teams that are looking to simplify the management of heterogeneous storage platforms. Software-defined storage has reached a level of maturity that lends itself to an open source project distribution model, similar to the ways Linux and Kubernetes are being advanced.
Interest in storage platforms in Kubernetes environments is rising alongside the increasing number of stateful containerized applications being deployed. The data generated by those applications will be stored both locally on a cluster and on external storage platforms that employ CSI to connect to Kubernetes clusters. It's not clear the degree to which traditional storage system providers are embracing open source software; however, as Kubernetes becomes more widely deployed it's apparent the level of comfort with open source software now extends well beyond an operating system deployed on a server.
The challenge will be integrating all the open source platforms that make up an IT environment in ways that make it well worth an IT team's time and energy.