Red Hat Adds Data Foundation to OpenShift Platform Plus Suite
Red Hat today announced it is adding Red Hat OpenShift Data Foundation to the Red Hat OpenShift Platform Plus suite. The Red Hat OpenShift Platform Plus suite includes Red Hat's add-on technologies it makes available for the Red Hat OpenShift Platform based on Kubernetes.
Red Hat OpenShift Platform Plus provides IT teams that adopt the core Red Hat OpenShift Platform with additional add-on offerings that include Red Hat Advanced Cluster Security for Kubernetes—based on the platform Red Hat gained with the acquisition of StackRox—and Red Hat Advanced Cluster Management for Kubernetes as well as the Red Hat Quay container registry.
Brent Compton, senior director of data services and cloud storage for Red Hat, says Red Hat OpenShift Data Foundation Essentials adds a data management tool to the portfolio at a time when the management of clusters and data is increasingly converging within Kubernetes environments. The latest version of Red Hat OpenShift Data Foundation adds support for object gateway namespace buckets; this addition will help to address data availability challenges by providing a more flexible way to address data needs across different cloud locations and support for persistent volume encryption.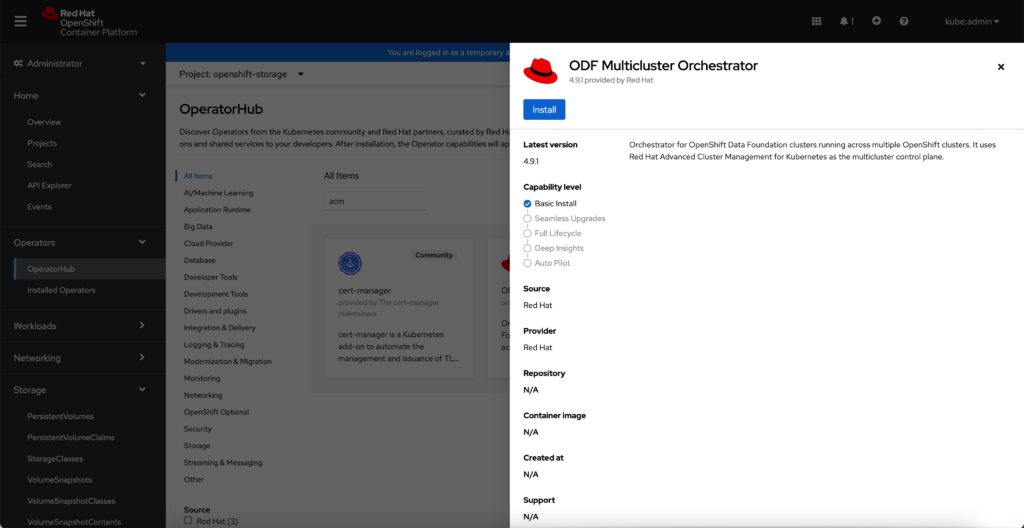 The goal is to provide IT teams with a single platform capable of accessing block, file and object storage, says Compton. In many cases, developers are now building applications that require simultaneous access to multiple classes of persistent storage, adds Compton. Red Hat OpenShift Data Foundation Essentials makes it easier to provide access to those services as data operations are incorporated within a larger DevOps workflow, he says. Red Hat OpenShift Data Foundation Essentials can also be configured to provide access to legacy client platforms alongside Kubernetes, notes Compton.
Red Hat created Red Hat OpenShift Platform Plus to encourage IT organizations to standardize on its platform while preserving the option of employing third-party offerings that might also be used on top of the Red Hat OpenShift Platform. In general, Compton says, there is now more interest in centralizing the management of IT platforms as organizations seek to reduce the number of vendors they need to manage. However, there is still a significant percentage of organizations that prefer to mix-and-match platforms as they see fit, he notes.
As IT teams become more familiar with Kubernetes, it's clear there is increased focus on the stack of software required by Kubernetes operations teams managing multiple applications across fleets of Kubernetes clusters. There is already a broad range of vendors that address various elements of that stack, and it remains to be seen whether a shift toward centralization may lead to a wave of consolidation among those vendors.
Regardless, managing Kubernetes environments at scale will be a major challenge for many more IT organizations in 2022. Platforms initially introduced by development teams are now increasingly integrated within larger IT management frameworks. The degree to which that integration occurs, however, is likely to vary widely from one IT team to the next.