Portworx by Pure Storage Extends K8s Data Protection
Portworx by Pure Storage has updated its backup and recovery platform to add an ability to offload backups from CSI snapshots to object storage platforms. IT teams can now also back up Kubernetes applications running in the cloud or an on-premises IT environment to any other cloud service or local data center.
Version 2.1 of PX Backup now makes it possible to back up and recover applications running on read-write-many (RWX) persistent volumes provisioned as file shares accessed via FlashBlade servers from Pure Storage, Portworx proxy volumes or any NFS server.
Finally, PX-Backup users can now leverage both the role-based access controls (RBAC) and encryption services offered in Portworx PX-Secure, an encryption tool, to better secure the platform.
Michael Ferranti, vice president of product and corporate marketing for Portworx by Pure Storage, said the ability to employ object storage to back up data makes it simpler for IT teams to implement best practices, including the call for three copies of data to be made available with one of those copies residing in a cloud-based storage service.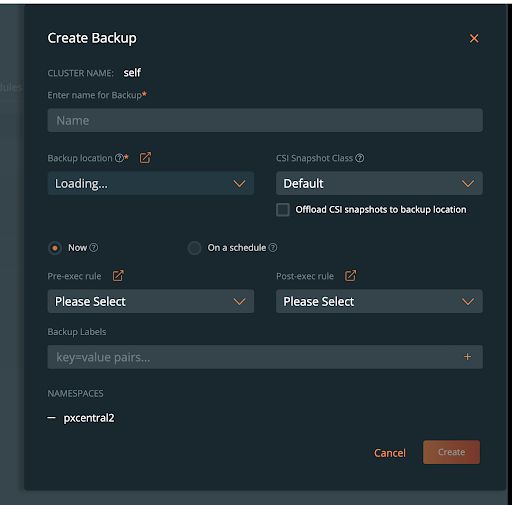 In general, Ferranti notes that as the number of stateful applications being deployed on Kubernetes clusters continues to increase, more IT teams are starting to evaluate how best to protect that data.
A recent survey conducted by the Data on Kubernetes Community (DoKC) finds 87% of respondents expect the percentage of stateful workloads they deploy during the next 12 months to increase, while 9% expect it to stay the same.
Increasing agility (58%) and increasing resilience (52%) are the two biggest drivers of decisions to build and deploy those applications. Deploying stateful applications on Kubernetes also allows IT teams to develop (54%) and scale (55%) their applications, the survey finds.
Additionally, the survey identifies backup and restore (55%), data mobility and capacity management (49%) and high availability (48%) as the most critical requirements for stateful applications running on Kubernetes. Data mobility (29%) is the most challenging of those goals to achieve (29%), while data protection is the biggest operational challenge (46%), the survey notes.
Historically, data protection has tended to be something of an afterthought whenever new platforms are deployed. However, with the recent rise in ransomware attacks, many IT teams have been reviewing their approach to data protection at roughly the same time they are deploying new classes of stateful applications on Kubernetes clusters. Many of those organizations are also attempting to more tightly integrate their data protection platforms with the security tools they employ to defend those clusters.
Many of those clusters are also being managed by a team that manages both compute, storage and security to help reduce the total cost of IT by not requiring storage resources to be managed by a dedicated administrator.
It's all but inevitable there will be incidents involving Kubernetes clusters that range from hardware failures to disasters involving flooding. However, given the number of platforms that data can be stored on today, there's no real excuse for losing data as long as the proper processes are in place and regularly tested.