Docker, Inc. Adds Business Subscription to Boost Revenue
Docker, Inc. today added a Docker Business subscription aimed at businesses that use the company's tools to build containerized applications at scale.
At the same time, Docker, Inc. is changing the subscription terms for Docker Desktop. It now requires a fee of $5 per user per month for professional use within large organizations. It remains free, however, for organizations with fewer than 250 employees that generate less than $10 million in revenue.
The Docker Pro and Docker Team subscriptions also now include commercial use of Docker Desktop, while the existing Docker Free subscription has been rechristened Docker Personal.
CEO Scott Johnston says like any provider of open source software, Docker, Inc. needs to generate profitable revenue to sustain its operations. The Docker Business subscription is priced at $21 per user per month. The shift in licensing terms is aimed at organizations that are clearly using the company's tools to build business applications, notes Johnston.
While the changes in licensing terms go into effect today, there will be a grace period through January 31, 2022 before changes to the subscription terms will be enforced.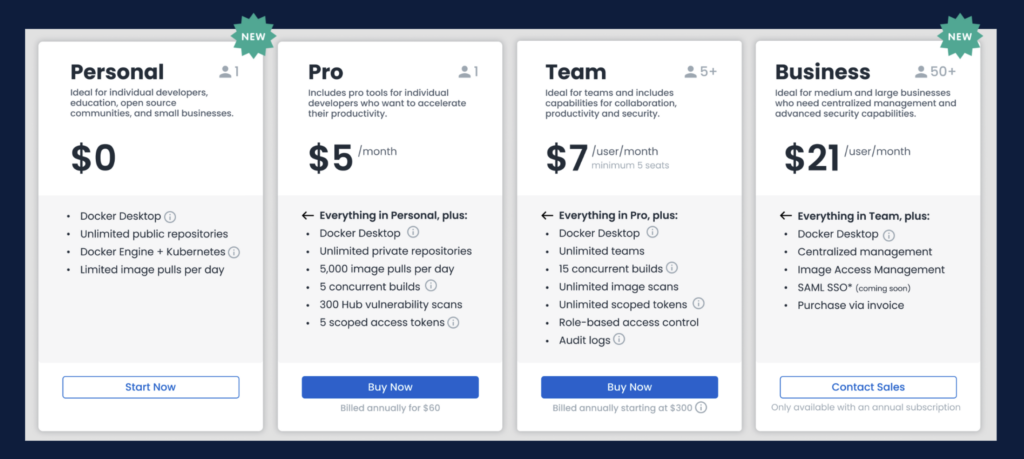 Docker, Inc. now estimates that 55% of professional developers now use Docker containers every day. By 2030, the company estimates there will be an estimated 45 million developers. Today, however, individual developers working on open source projects or in education or small business environments collectively account for half of the company's user base.
In general, vendors that have business models based on open source software are trying to strike a balance between making investments that increase the number of users of free software and the percentage of those users that might pay for additional capabilities or enterprise support. When not enough free software users consume additional commercial services, the financial pressure on the provider of that software increases. Docker, Inc., in addition to covering employee salaries, has also garnered millions of investment dollars over the years from multiple venture capital firms.
Each business that makes use of these tools will need to determine how many of its developers are using them if they decide to honor the terms of the Docker Business subscription. The challenge is that in many organizations, developers regularly employ open source tools without ever asking anyone's permission. That's become even more difficult to track with so many developers continuing to work from home to help combat the spread of the COVID-19 pandemic.
It's not clear to what degree the changes being made to the Docker, Inc. subscription model might drive professional developers to embrace other tools simply to avoid having to engage with finance teams that would have to sign off on a subscription. Others might simply treat a subscription as a credit card expense they will be reimbursed for later. Regardless, it's worth remembering all that time and effort that goes into open source software comes at a cost to someone most developers will never meet.