Mesosphere Moves to Head Off Kubernetes Sprawl
Mesosphere today released an update to the Mesosphere DC/OS platform that makes it easier to deploy and manage Kubernetes clusters in a high-density environment.
Ed Hsu, vice president of product Mesosphere, says that as adoption of Kubernetes continues to accelerate, it's now only a matter of time before Kubernetes sprawl becomes a significant issue for enterprise IT organizations. To address that issue, version 1.12 of Mesosphere DC/OS now includes a Mesosphere Kubernetes Engine (MKE), which enables deployment of multiple Kubernetes clusters on the same physical IT infrastructure. That approach will reduce substantially the number of servers, virtual machines and number of operating systems that need to be provisioned to support multiple Kubernetes clusters, says Hsu. In fact, he adds, MKE can cost the cost of infrastructure required to support Kubernetes by as much as 50 percent.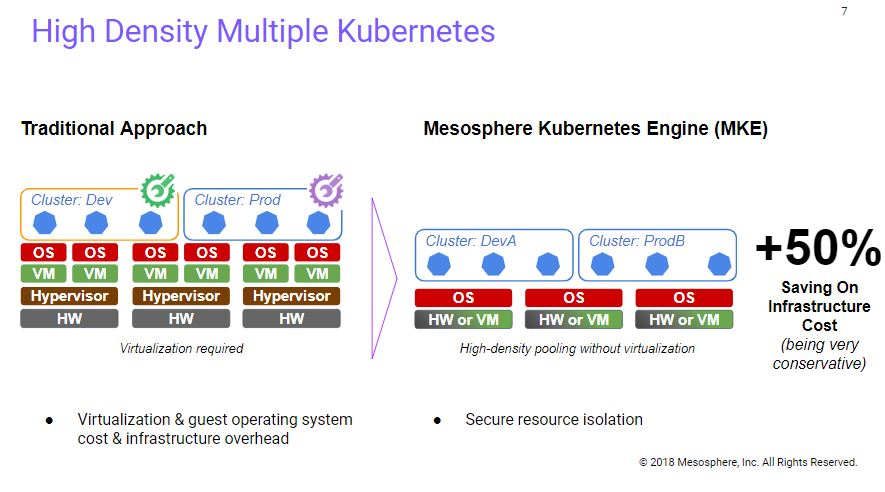 Other new capabilities in version 1.12 of Mesosphere include a universal cloud installer, improved integration with LDAP directories, support for the open source Prometheus container monitoring software and the ability to manage Kubernetes across multiple cloud regions. Because of these and other capabilities, Mesosphere is now rebranding its core platform as a distributed cloud operating system (DC/OS).
Finally, version 1.12 for Mesosphere DC/OS also include support for a beta release of a Mesosphere Jupyter service, which makes it easier for data science teams to share documents and visualizations using the Jupyter open source tool. Containers have become widely employed in the development of artificial intelligence (AI) applications because they make it easier to update portions of an AI model instead of having to address a massive monolithic application every time a change needs to be made.
In general, Hsu says it's clear Kubernetes is accelerating a transition to hybrid cloud computing. But too many organizations still don't appreciate all the nuances and complexity associated with managing the underlying IT infrastructure on which Kubernetes clusters rely. The more that organizations embrace Kubernetes inside and out of the cloud, the more apparent it becomes there is a need to unify the management of IT infrastructure across a highly distributed environment, says Hsu.
Over the years there has been an ongoing debate about the future relevance of Mesos and the Mesosphere DC/OS platform now that Kubernetes can be employed to abstract compute, storage and networking. But Hsu says it's clear now that Kubernetes will not address anytime soon the management of the underlying infrastructure it depends on. A report recently published by Mesosphere notes that the fastest growing class of clusters being deployed on DC/OS is Kubernetes. The DC/OS framework for managing IT infrastructure, however, extends to a broad range of types of clusters, including, for example, Hadoop.
It's not clear yet which framework will prevail as IT organizations move to modernize distributed computing environments in the age of the cloud. What is clear is that legacy approaches to managing IT infrastructure are not going to be able to scale to meet the requirements of the next generation of containerized applications.