Diamanti Extends Kubernetes Reach to Public Cloud
Diamanti today announced it has extended the reach of the Spektra management framework it employs to manage on-premises instances of Kubernetes into the cloud.
Jenny Fong, vice president of marketing for Diamanti, says version 3.0 of Spektra enables IT teams to extend a unified control and data plane to instances of Kubernetes running on the Microsoft Azure cloud, with support for Amazon Web Services (AWS) and Google Cloud Platform (GCP) to follow.
Spektra can be deployed on hyperconverged infrastructure (HCI) platforms from Dell Technologies and Lenovo in addition to Diamanti's D20 appliance.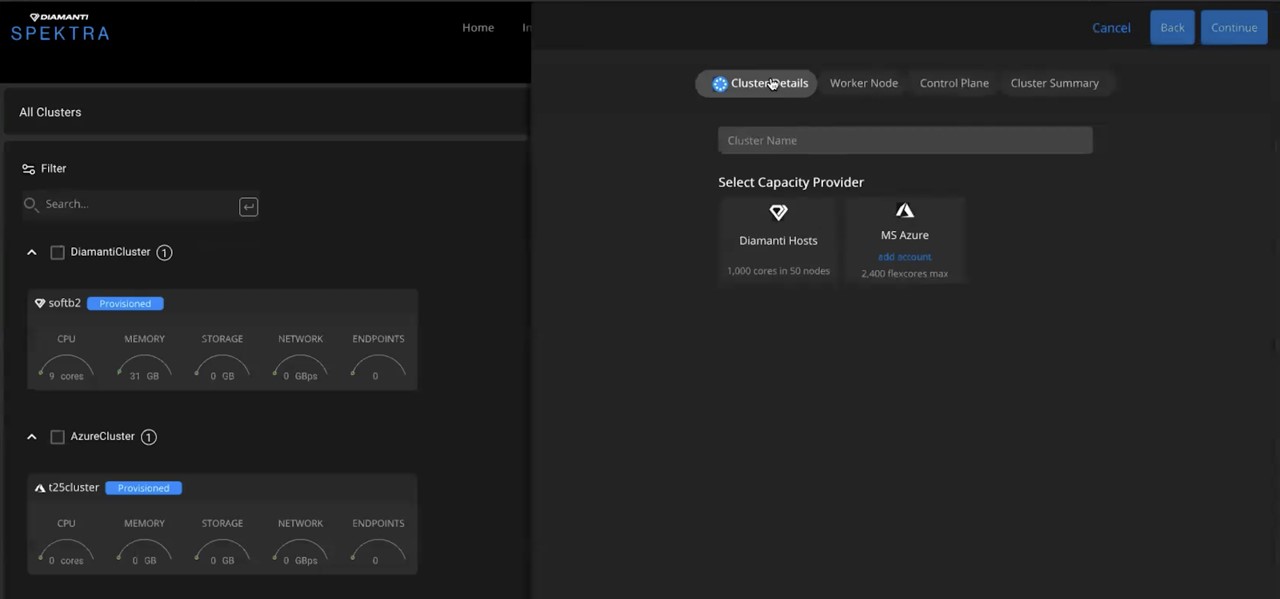 By extending the reach of Spektra to the cloud, Fong says IT organizations gain a management framework capable of deploying, replicating and migrating containerized applications across multiple clusters of bare-metal servers running Kubernetes and public clouds.
Diamanti has been making a case for relying on bare-metal servers to run Kubernetes clusters as an alternative to relying on virtual machines. That approach not only reduces overhead and latency, but it also potentially reduces the total cost of IT by eliminating the need to license commercial instances of VMware—an approach that is gaining more traction at a time when many organizations are under pressure to reduce the total cost of IT, she says.
Most instances of Kubernetes today are deployed on virtual machines to ensure isolation. Diamanti will make instances of open source virtual machines available to IT teams that require it. IT teams can also isolate separate Kubernetes tenants within a single domain. At the same time, lighter-weight instances of virtual machines are being developed to provide an alternative to existing virtual machines that include capabilities that go well beyond simply providing a way to isolate workloads.
Spektra also serves to make Kubernetes platforms more accessible to the average IT administrator. Policy-based controls make it possible to, for example, organize tenants and projects across multiple managed clusters to provide applications with access to a predetermined set of shared resources. IT teams can also now configure disaster recovery policies spanning on-premises IT environments and public clouds via a single console.
As adoption of Kubernetes to run stateful applications in on-premises IT environments increases, Fong says Spektra will evolve into a framework for managing multiple distributions of Kubernetes spanning a hybrid cloud computing environment. Interest in unified hybrid cloud computing platforms based on Kubernetes is expected to rise as IT organizations look to centralize the management of containerized applications.
It may be a while before multiple distributions of Kubernetes are routinely managed via the same management console. However, given the fact that every distribution of Kubernetes supports a common set of application programming interfaces (APIs), it's easier to achieve that goal using a modern platform than it is to try and unify the management of multiple platforms based a variety of virtual machine platforms.
Hybrid cloud computing in one form or another has been around for a while now. Building and maintaining hybrid clouds using legacy platforms is difficult. Kubernetes, however, may soon make hybrid cloud computing an everyday IT reality.