NetApp Uses Kubernetes for Storageless Infrastructure
NetApp today at its online NetApp Insights 2020 conference announced it has added a storageless computing service that extends an existing Spot Ocean serverless computing framework for containers to make storage resources available on-demand in Kubernetes environments.
Ronen Schwartz, senior vice president and general manager for cloud volumes at NetApp, said as Spot Storage by NetApp continues to evolve, IT organizations will be able to leverage a storageless computing framework across hybrid cloud computing environments without having to administer storage infrastructure.
Spot Ocean already provides real-time analysis of pod and task requirements to predict compute resource requirements. It then makes spot, reserved or on-demand instances of compute resources available based on the cost-sensitivity of the IT budget when needed. That capability is now being extended to also apply to storage infrastructure using Kubernetes clusters that enable Spot Storage NetApp to programmatically orchestrate storage resources.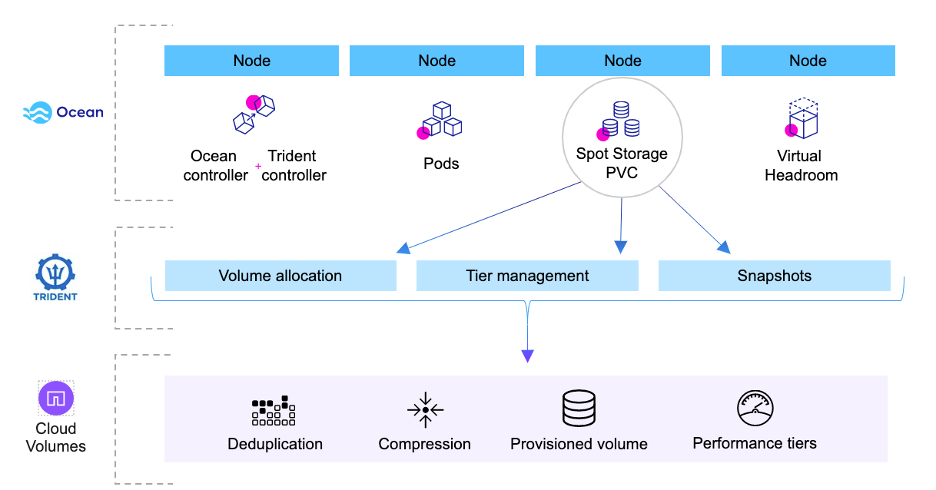 NetApp today also launched NetApp Cloud Manager, which makes it possible to manage data synchronization, data backup, data tiering, file caching and compliance across storage volumes residing in public clouds and on-premises IT environments. At the same time, NetApp unfurled a fully managed, cloud-based NetApp Virtual Desktop Management Service (VDMS) intended to make it easier for organizations to enable employees to work from home.
Serverless computing frameworks have been gaining traction in the cloud because they enable developers to dynamically invoke additional infrastructure resources on-demand. NetApp is now extending that capability to storage resources accessed by microservices-based applications deployed on Kubernetes clusters to create storageless environments. Most of those clusters today are running on cloud services but it's only a matter of time before Kubernetes clusters are more widely deployed in on-premises IT environments.
In the meantime, the number of stateful applications being deployed in Kubernetes environments inside and out of cloud platforms is just now starting to increase. However, many of the IT teams deploying these applications lack dedicated storage expertise. Spot Storage by NetApp eliminates the need to have a dedicated administrator to manage storage environments that need to dynamically scale both up and out as required.
Storage administrators used to take great pride in their ability to optimize access to shared infrastructure resources across multiple applications. However, as the amount of data now being accessed by potentially thousands of microservices grows, it's not possible for one storage administrator to keep pace. It's now less expensive to make storage resources available to any application based on immediate requirements without having to worry about the cost of overprovisioning storage.
Storage costs will continue to rise as the amount of data organizations increases. However, the overall IT environment will become more flexible because no one will have to wait on a storage administrator to acquire, deploy and configure additional storage arrays.
As infrastructure becomes managed as code, many of the manual tasks previously associated with managing storage increasingly are becoming automated. It may be a while before all those tasks are completely automated, but within a modern IT environment running Kubernetes, many of those manual IT tasks are already antiquated. Storage is just the latest example.