Chkk Launches Platform to Maximize Kubernetes Availability
Chkk this week emerged from stealth to launch a Kubernetes Availability Platform that identifies and prioritizes availability risks before incidents that can lead to outages occur.
In addition, an included Collective Learning capability mines, curates and programmatically delivers operational insights collected from detectors that can be used to pre-verify upgrade plans and prioritize risks.
Fresh from raising $5.2 million in funding, Chkk CEO Awais Nemat said the platform captures and analyzes signatures in a database from multiple deployments of Kubernetes clusters to collectively benefit IT organizations that adopt the platform. A Knowledge Graph then tracks changes occurring across hundreds of Kubernetes projects to model the impact a change might have on those environments.
That approach enables organizations to reduce the level of expertise required to otherwise successfully manage and secure what are rapidly becoming fleets of Kubernetes clusters now running mission-critical applications, added Nemat.
Designed to ensure availability of Kubernetes clusters running in on-premises IT or on any public cloud, the Kubernetes Availability Platform consists of a Risk Ledger that identifies, prioritizes and addresses availability risks; an Artifact Register that discovers and maps all container images, registries, tools, control planes, add-ons and applications across a fleet Kubernetes clusters; and an Upgrade Copilot tool that plans and executes cluster, add-on and application upgrades safely via pre-verified upgrade plans.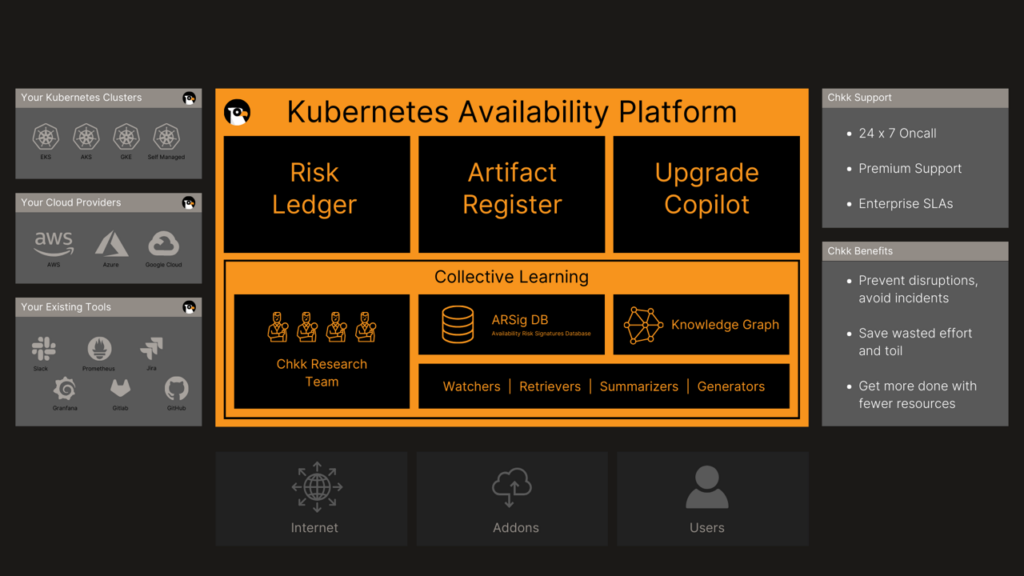 While more IT professionals with Kubernetes expertise are becoming available, the demand for those skills far outstrips the available supply. More challenging still, with each successive update, Kubernetes is becoming more complex to manage as additional capabilities are added, noted Nemat.
In the longer term, the company expects artificial intelligence (AI) capabilities will provide explainability capabilities that will make it easier for IT teams to better understand the root cause of any issue, added Nemat. AI won't eliminate the need for IT administrators as much as they will make it simpler to manage Kubernetes clusters at scale without having to rely on specialists to manage every aspect of a cluster environment, he added.
Naturally, there's a lot of speculation concerning the impact AI will have on DevOps. Some contend it's only a matter of time before the entire software engineering process is automated. As those advances are made, the cost of building applications will drop dramatically. Others argue that AI will augment DevOps teams in a way that makes it simpler to manage IT at scale using either the same number or possibly even fewer engineers.
Organizations that embrace AI may not have a sustainable competitive advantage when every other organization is doing the same, but those that don't will soon be left behind. Those who succeed will benefit from being able to manage many more application environments at minimal additional cost.
Ultimately, most DevOps professionals will not want to work for organizations that don't provide them with AI tools that make it more likely for them to be successful. In the meantime, a range of tools for automating the management of Kubernetes clusters will soon make one of the most complex IT platforms ever to find its way into the enterprise simpler to manage.